Adam Weighing Scale Display Icons

You probably noticed the display on your balance or scale's indicator shows various symbols at a given time. Whether you don't have a manual to flip through, or just want a quick refresher course, this page explains some of the symbols you may see displayed on a scale or balance, and their meaning.
All balances and scales have different icons and text on their display. Sometimes it's specific to the model of the instrument, and other times it's for specific features or applications. Many balances have multilingual displays. Icons or symbols are used on all balances regardless of the manufacturer, but for the sake of this post, we are only discussing symbols found on Adam products. Some icons are specific to Adam, while others are part of an international standard for symbols. Approved scales display symbols that are required by law for legal trade usage. This is not a complete list of Adam Equipment's icons and symbols (that would be many, many pages), only the most common.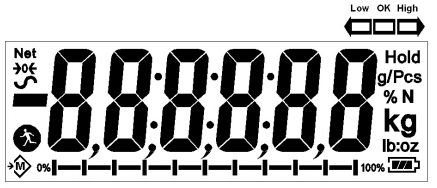 Weighing Modes
Percent or %

Percent Weighing. The balance is in percentage weighing mode or the reading is shown as a percentage. It is also used with moisture analysis with a %S or %M, meaning percentage solids or percent moisture.
Parts or PC or pcs

Piece Counting. The balance is counting pieces or showing the number of PCS on the display.
Hold

Hold is displayed when the balance is holding the weight value. Often used for peak hold or animal / dynamic weighing. This signifies that the displayed reading will not change if weight is taken away from the balance or scale
Density Solid

When the balance is in the Solid Density mode
DS

Density Measurement
Net

When a net weight is shown
or Dynamic

When the balance is in the animal/dynamic weighing mode
When a value has been entered into the memory
Tare symbol. The balance is at zero because the weight on it was tared.
)) ) )

Ultrasonic sensor symbol. The MUW's sensor is on and measuring the patient

Checkweighing and Checkcounting
Used for checkweighing to show if the item being checked is low, ok or high. Can be used when check counting as well.
HI

(red) Mass on the platform is above the high limit
OK

(green) Mass is between the limits
LO

(amber) Mass is below the low limit)
Indicates that the internal memory has a record of previous weight readings stored in it.
The number of samples to accurately determine the count is insufficient.
Indicates that a preset count has been stored.
or

The unit weight is not large enough to determine an accurate count.

General Display
* or or or STABLE

Indicates the balance is stable.
or or -0-

Exact Zero Indicator; the scale or balance is reading zero. Sometimes this symbol is used on the keypad to allow the user to zero the balance or scale.
/ bAt LO / LO bat / / /

Battery Indicator. Displays how much battery life the balance has left. If the icon flashes, battery is low
Data Insertion
H

Upper Threshold
Busy. The balance is currently processing or calculating results, so it cannot be used right now
followed by (-) (weight under value or OK (weight is inside value) (+)(weight over value) or /

The Capacity Indicator Bar shows the user how much weighing range they have left before they might over load the balance or scale.
:

Separate pounds from ounces.
diSPEr

The weight exceeds the 6 digits the display can show.
PIn

requesting the password number.
Some scales, like the CBD, can display letters of the alphabet for product descriptions.

Calibration
CALIBRA

Enter Calibration Mode
CAL

Calibration Mode is ON, calibration is happening or about to occur.
CAL OFF

Calibration Mode Ended
L0Ad

Put weight on the balance during calibration mode. The number after load is the mass of the calibration weight you should put on the balance during calibration.
unL0Ad

Remove weight from balance during calibration mode.
T

For a time driven calibration. Some balances with internal calibration can be programmed to self calibrate automatically at certain time intervals.
ºC

a Celsius icons is shown or a temperature driven calibration is to occur
SPAn, PASS

Calibration is done
SPAn, FAIL

Error: calibration failed

Units
For a more detailed description of weighing units please see our Units of Measurement page.
GRAMS

g
MILLIGRAMS

mg
KILOGRAMS

kg
CARATS

ct
PENNYWEIGHTS

dwt
GRAINS

GN
TROY OUNCES

ozt
OUNCES

oz
POUNDS

lb
DRAMS

dr
HK TAELS

tl H
TAIWAN TAELS

tl T
SING TAELS

tl S
MOMMES

mm
TOLAS

T
TICAL

ti
NEWTONS

N
CUSTOM

Customer
NUMBER OF PIECES

PCS
Feel free to contact us with any question you might have. Don't forget that manuals are available on our website. Just go to the product page and scroll down. There are several PDFs in various languages you can click on and read. You can also watch our product videos.