Holiday season is upon us, and that means increased business and presents to send. Is your shipping department ready to handle the influx of orders? We take a look at various shipping scales and how they can optimise shipping and handling to save you the time and money necessary to stay afloat during the demanding holiday season. Whether you're just getting started or you need an upgrade, Adam Equipment can help you find the right scale for the holidays.
Know Your Business
Examine the items that will be weighed and the conditions they will be weighed in before selecting a product. Depending on your business model, you may need a more versatile weighing scale or multiple types in order to fulfil your needs. If your shipping department is in a dusty warehouse, an industrial scale with an IP66 rating might be a worthy investment. Some digital weighing scales have data communication capabilities that make tracking the orders easy. Other scales have rechargeable batteries for moving them around more easily. It's all about finding what you need and making sure the scale is fully adapted to solve your problems.
Bench Scales
Bench scales such as the ABK are versatile weighing tools that can handle anything from ordinary warehouses to commercial bakeries or chemical plants. They are sturdy, easy to clean, and don't take up too much space. Some bench scales have IP66 ratings to deal with harsh conditions, while others have checkweighing or checkcounting abilities, which can come in handy if you send packages or gift bags with a set amount of items in them. These scales also tend to be easy to use with little to no training, which is practical if you hired seasonal workers to deal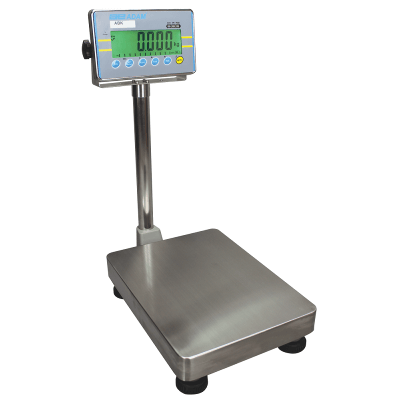 Floor Scales
Floor scales tend to have larger weighing pans and have higher capacity than bench scales. They're meant for bigger products or higher quantities. These scales are sturdy and some have IP66 ratings to protect them from exigent environments and spills. They usually have the same features you would look for in bench scales, such as checkweighing and checkcounting, lights that show if an item is under, over or within preset limits at a glance, easy operation and a bright display highly visible in most conditions.
Versatile Weighing Scales
Scales such as the CPWplus, are available in a large variety of sizes and capacities to give you the features you need with the size of your choice. Features such as a hold function will allow users to finish tasks, like packing or wrapping packages, without losing the weight reading before recording it. Selectable digital filtering helps the scale record accurate weights even in shaky conditions, and a zero tracking feature can save you time by automatically returning to zero when the weight is taken off the scale.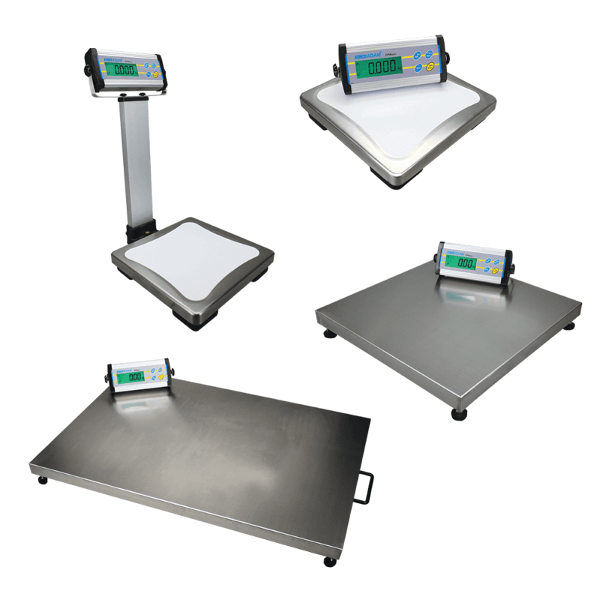 Platform Scales and Weighing Indicators
For heavy products or a high number of them, a platform might be necessary. Platform scales are highly durable and built for industrial use. Some are specially designed to handle pallets while others are more versatile. Pallet beams are maneuverable and ideal for oversized items, while platform scales like the PT have ramps to roll or drag items on it more easily. Many platforms can mix and match indicators, so you can pick something specialised like a GC counting indictor, fully featured like the AE or trade approved like the GKaM. Platform scales allow you to handle a great volume of orders while specialised weighing indicators provide the digital output needed to capably handle logistics.
Stay on Top
Whether you have a small shop or big warehouses, a postal office or an internet based business at home, a good industrial scale can optimise shipping and receiving. If you need a scale to deal with the seasonal influx or are thinking of upgrading, feel free to browse our website, or contact us to ensure you save time and money this holiday season.